Welcome to the Parfa Koskinen family!
Are you curious about reindeer herding? Want to know more about the Sami culture and what it is like living in the North of Sweden and Norway? Come see us and find it out.
Reindeer Experience Long Visit
Meeting the reindeer hungry is not an option! We start by eating a traditional Sami meal in the lávvo (tipi) by the open fire, drink some coffee or tea and get to know each other properly. You get plenty of time to feed the reindeer afterwards and take all the pictures you want. They will come close and eat what you have to offer. After some practice, we try to catch a reindeer antler with lasso, suohpan. Who knows, you might get a nice prize if you succeed!
Reindeer Experience Short Visit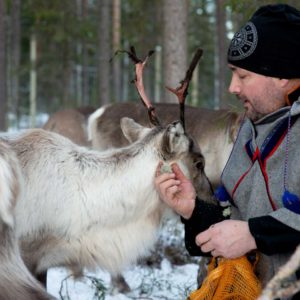 Meet our reindeer after a nice time by the open fire in the lávvo (tipi). You get a light taste of Sápmi while we drink coffée or tea and talk about life in the North. Traditional Sami bread, gáhkko, with some dried reindeer meat and nice conversations give you an insight into our life. Outside we try to catch a reindeer antler with lasso, suohpan. Be prepared to get close to our reindeer as we feed them. They like people, and what you have to offer.
Ice Fishing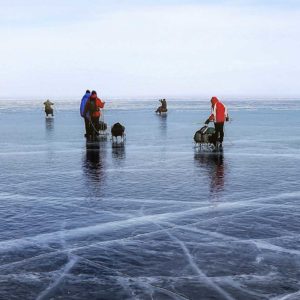 Take a ride with us to Rosfors eco-park in the snow mobile sled, and experience the charm of ice fishing in one of the lakes in the area. Amongst other kinds of fish, you might catch an arctic char or trout. Some coffee or tea, with traditional Sami bread and reindeer meat by the open fire is nice when limbs get cold.